You feel your vehicle is a "lemon". You want to get a refund of your monies or a replacement vehicle, and you don't know how to go about it, or worse yet – you are trying to do it yourself.

All too often consumers try to "settle" or "win" a case on their own with an automobile manufacturer, often resulting in more frustration – often leading to the worst possible outcome for the consumer, and the best outcome for the automobile manufacturer - trading in the offending car and losing all earned equity! Avoiding this disaster is where the Lemon Law attorney steps in!
Live in California? Click below to...

See if you qualify for a California lemon law case!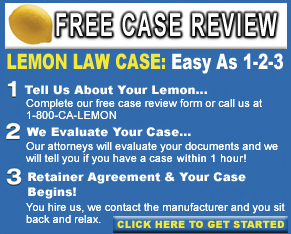 NOTE: If you live outside of California, and do not yet know if you have a valid lemon law case, please click on this link: (shown in blue) www.AutoLemonLawsUSA.com
However, choosing the right Lemon Law attorney can make all the difference in the world! But how do you choose??

Lemon Law is a specific field within civil litigation that requires years of pre-litigation, litigation and court trial experience. Just like choosing a doctor, you want to seek out the very best you can find, rather than randomly choosing. 

Beware of the so called Lemon Law "specialist" who may not be as experienced as advertised. Any Lemon Law "specialist" upon request should be able to produce a written history (with the official case name and number) of successful jury trial verdicts against automobile manufacturers in Lemon Law cases going back many years.

This site is designed to assist consumers with "lemon" vehicles to find a Lemon Law attorney that is best equipped to successfully pursue their Lemon Law case and to maximize the potential of their claim.

Attorney Basics (Or, what to look for - and why)

CHECK LIST



Each one of the following criteria is "basic", and should be weighed collectively in the decision to choose a lemon law attorney firm. You should use all of the basics, not just one or two.



1. Years in practice. Just like any other attorney or doctor, experience counts. Some attorneys found advertising via the internet have only been practicing Lemon Law for as little as 1 or 2 years, and have little or no Lemon Law trial experience! How do you find a well-established Lemon Law attorney firm and verify the attorney's years in practicing Lemon Law? Ask the attorney to fax you a trial court decision on a Lemon Law case and/or a case filing from many years back. This is your attorney experience "litmus test".



2. Practice exclusive to Lemon Law? Just like a "general practitioner," some Lemon Law attorneys practice numerous types of law and Lemon Law. An attorney that practices only the Lemon Law is known as a "exclusive practitioner," and will have the greatest degree of experience. This experience can translate into a greater chance of success with winning your Lemon Law claim for you. Be sure to ask the attorney firm what types of law they practice now, and what types of law they have practiced previously, so you can find out how many years they have practiced Lemon Law without diluting their case load with other types of non- Lemon Law cases.



3. Size of firm / firm based in California. Finding a large Lemon Law firm that is based and located in California, and has practiced exclusively Lemon Law for many years can be of great benefit to the consumer. The Lemon Law firm should have numerous California State Bar certified Lemon Law attorneys on staff. These attorneys should be pursuing strictly Lemon Law cases and be based in California, to allow mobility to meet thier clients in person at the law office, and/or for travel to visit clients in the city where they reside.



4. Research and Technical Department. All Lemon Law claims must be looked at from both the legal or law side of the equation, and the technical or mechanical side of the equation. Finding a Lemon Law firm that has a fully staffed Research and Technical Department is an important part of your decision in choosing a Lemon Law attorney firm. Speaking with the firm's Technical Director about your vehicle's specific problem will instantly tell you if the firm is familiar with your particular vehicle's known mechanical issues. A Lemon Law firm that does not have a Research and Technical Department is half blind.



5. Attorneys Fees. A top-notch Lemon Law attorney firm will take your case on a "contingency" or "contingency fee" basis – meaning that the attorney will only get paid if the case is settled or won and recovery is made. If a Lemon Law attorney asks for any money "up front" (retainer fee), that attorney's belief in the validity or strength of the Lemon Law case should be questioned. On the other hand, a "contingency" or "contingency fee" arrangement means that the attorney will take the risk of losing – not the consumer.



6. Costs of Suit. A very important and often overlooked or unknown area to consumers is the costs of suit. Unless otherwise arranged in advance, the costs of suit are commonly the responsibility of the consumer/client. Your choice of a Lemon Law attorney firm should be one that advances the costs of suit for you from the law firm's expense account. In this fashion the consumer has no "out of pocket" costs during the duration of the case. Typical costs of suit include depositions, expert witness fees, filing fees, and other costs. Your signed agreement with your attorney firm should include language that defines that the costs of suit will be advanced by the attorney.



7. Contingency Fees. Some Lemon Law cases will be more difficult than others to prove and settle with the manufacturer. Hence there may (or may not be) a "contingency fee" charged to the consumer by the attorney firm to accept and pursue the case. These fees are not set by law, and are negotiable based upon the risk and difficulty level of the individual case.



8. Trial Record. Every automobile manufacturer is different in their specific views of Lemon Law cases - though small in number, some Lemon Law cases will go to trial. An experienced Lemon Law attorney should also be an experienced trial attorney. Ask the Lemon Law attorney firm about their trials with the manufacturer who built your brand of vehicle. An experienced Lemon Law attorney should be able to provide written summaries of trial results.



9. Offices based in California and California State Bar Certified. The attorneys of the Lemon Law firm you choose should be registered and listed with the California State Bar and have their home office in California. Consumers desiring local in-state attorney representation should enquire as to where the Attorney firms offices are located, and if the consumer can come into the Attorneys office for a consultation, if desired. Some attorney firms practice California Lemon Law from out-of-state, remote home office location(s).



10. Seeing the Case Through. Many Lemon Law cases start in the "demand stage," and settle there without a lawsuit ever being filed. Other Lemon Law claims will be denied or ignored by the manufacturer, prompting the Lemon Law attorney firm to file a lawsuit to continue the pursuit of the consumer's Lemon Law claim. An experienced Lemon Law attorney firm will tell you, in advance of taking your case, what their policies are regarding lawsuits (see # 5,6 & 7 above). Having a clear understanding that the attorney will take a qualifying case to the lawsuit level and see it through is very important.



11. Expert Fees responsibility. Lemon Law cases, whether in the "demand stage" or in lawsuit will often entail a request by the manufacturer for a "vehicle inspection." Depending upon the specifics of the case, an "expert witness" will need to be sent by your attorney firm to monitor this inspection. However, expert witnesses are not cheap! The responsibility for expert witness fees usually rest with the client. However, larger and more established Lemon Law firms will advance this cost for the consumer, relieving the consumer of potentially hundreds of dollars in expenses.



12. Vehicle Defect Verification. There will be Lemon Law cases where the existence of the vehicle's ongoing defect must be verified by an automotive mechanical expert for the Lemon Law attorney to properly pursue your case against the manufacturer. The responsibility for these fees, which can run into the hundreds of dollars, usually rests with the client. However, larger and more established Lemon Law firms will advance this cost for the consumer.



13. California Lemon Law Reference Materials. Larger, well established Lemon Law firms will produce, print and make available to potential clients printed materials on California's Lemon Law. These same firms will offer these printed materials via a free on-line order form, or by calling the attorney firm.



14. The Human Touch. Your experience with being represented by a Lemon Law attorney firm can be a positive experience with outstanding results. You can often predict what your overall experience will be during your initial contact with the representatives of the law firm(s) you call with your Lemon Law claim enquiry. Is your call met with a human voice, or do you get a "voicemail"? Are they pleasant and positive? Do they sound knowledgeable? Do they answer your questions?


CLICK HERE TO VISIT THIS WEBSITE
A qualified, experienced Lemon Law attorney firm that fulfills all the guidelines listed above will afford you with the best opportunity of settling or winning a lemon law case. In California the manufacturer is responsible for paying your attorneys fees, making professional legal representation not just a hope, but a reality.

We hope and trust that this website has provided you with information that will be valuable to you in successfully getting rid of your lemon vehicle!
California Lemon Law - Statewide California Lemon Law - Free Consumer Help